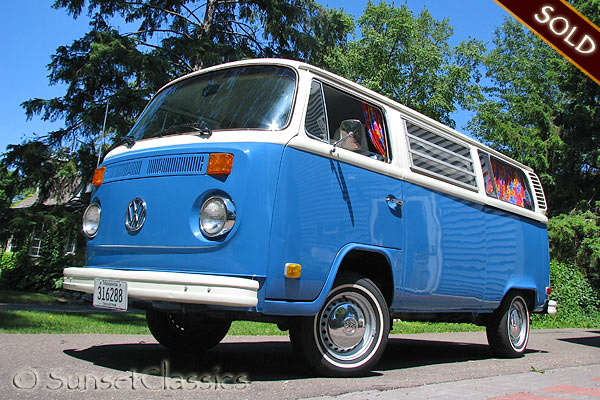 There's a Volkswagen bus that lives a few miles from our house. Every time we drive by it, my girls ooh and ahh about how cute it is.
I have another reaction. I'm transported back to the 1980s when my family actually owned one of these beauties. My parents had bought it from my grandparents and it became the car I would drive to work.
As you might imagine in a family with eleven children, money was tight and had to be stretched as far as possible. One summer, the starter gave out. This was inconvenient, but as I'm sure all of you know (or at least a couple of you), a starter isn't a necessity if it's got a standard transmission. All you need is a good push or a little incline. When we'd go shopping, we'd simply park on a hill. If a hill wasn't available, we'd need a couple of strong bodies to help push.
I began driving the Volkswagen to work each day. I worked at Tyson Foods and sadly, the parking lot was completely flat. What was an 18 year old girl to do?
Fortunately for me, the driver of the forklift in the shipping department was a ladies' man. He often made me blush with his insane flirting, but I quickly learned I could use his flirtiness to my advantage. I asked him if he could give my car a push so I could get it started. He pulled the forklift behind my car, lowered the blades that picked up crates so they went under the car and gave the car a gentle nudge.
Wow! That was so much easier than pushing the car in the Missouri heat and humidity. And because he was a crazy flirt, he offered to do it every day. LUCKY ME! All I had to do when it was time to leave for the day was call the loading dock and Ladies' Man and his forklift would come running.
One day, he lowered the blades and nudged my car forward. I let out the clutch but nothing happened and the car rolled to a stop. Instead of waving goodbye to Ladies' Man, I motioned for him to try again. Instead of the car starting in the parking lot like it always had, we tried again and again. And again. He suggested we get out on the road where he could push a little faster and see if that did the trick. It didn't. We tried several more times, that forklift getting further and further from its loading dock.
I was beginning to think I'd have to call my dad to tell him there was more wrong than just the starter.
The starter! Oh yeah. Even though the starter wasn't necessary, turning the key to the "on" position was. And I'd forgotten. After months of starting the car this way, I'd forgotten.
I turned the key to the "on" position, motioned for Ladies' Man to try "just one more time," and what do you know. The car started right up. I waved goodbye and he drove the forklift back to the loading dock.
I never told him what I did, but the next day I brought him cookies for his kindness. Which only made him think I liked him. That gave me a whole new problem to solve.